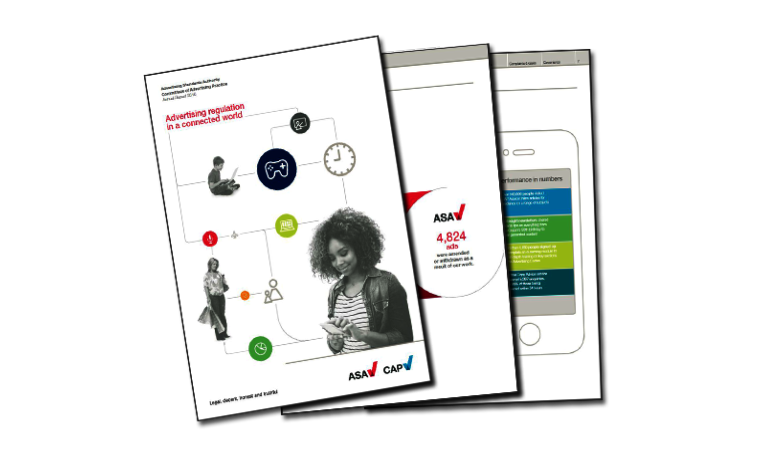 Our Annual Report 2016 reveals how our work has changed and how we have adapted to a fast changing advertising landscape where nearly half of our work now involves regulating online 'advertiser-owned' ads , material that just five years ago wasn't covered by the rules.
2016 marked the five year anniversary of the ASA and CAP extending the advertising rules to cover companies' and other organisations' own ad claims on their own websites and social media spaces, for example on You Tube, Facebook and Twitter. The Annual Report reveals the impact of that change. In the last five years:
The ASA has resolved 41,383 complaints about 36,872 online 'advertiser-owned' ads
Those ads accounted for 1 in 3 complained about to the ASA
88% of complaints about online 'advertiser-owned' ads were about misleadingness, compared to 73% for complaints across all media.
The report highlights the regulatory challenges the changing advertising landscape poses, with the lines between offline and online and between paid-for, 'owned' and 'earned' advertising becoming increasingly blurred. And the report shows how technological change has influenced the ASA's strategy to have more impact and be more proactive.
The ASA and CAP now undertake more sector- and issue-wide projects than ever and we have upped our training and advice to companies and organisations who advertise online, helping them get their ads right in the first place.
Key projects included:
Undertaking research with consumers to test their likely understanding of the presentation of pricing offers in broadband ads, including line rental, which culminated in strengthening our approach to advertised fixed broadband price claims to avoid customers being misled
Working with the alternative health and complementary medicines sector to set out guidelines on how to promote their services, while sticking to the rules
Introducing strict new food advertising rules banning the advertising of high fat, salt or sugar (HFSS) food or drink products in children's media (including on company websites and in social media)
Key figures for 2016 included:
The ASA resolved 28,521 complaints about 16,999 ads
4,824 ads were changed or withdrawn as a result of ASA and CAP action (a record year and a 5% increase on 2015)
CAP delivered 281,061 pieces of training and advice to industry to help companies and organisations get their ads right (another record year and a 10% increase on 2015)
The ASA and CAP delivered strong enforcement, with 8 websites taken down, one successful prosecution of an alternative therapy provider following referral to our legal backstop, Trading Standards, and two arrests pending prosecution
Guy Parker, ASA Chief Executive, said:
"We now encounter messages from brands and organisations on websites, on social media platforms, in vlogs, blogs, postings and tweets and even in sponsored online articles. Despite the rapid technological change, one thing has remained constant: we expect to be able to trust every ad we see or hear. Of course most stick to the rules, but we're adapting to the increasingly interconnected world in which we live to tackle those that don't. Whether it's responding to complaints, undertaking project work, conducting enforcement activities or, crucially, providing advice and training to the majority who want to get it right, we're delivering. With important projects successfully completed, a record number of ads amended or withdrawn and a record number of pieces of advice and training delivered, we're making ads responsible wherever they appear."
View and download our Annual Report 2016.
---
More on
---