Welcome to the ASA careers section where you will find details of:
The ASA is the UK's regulator of advertising and we offer interesting, varied and rewarding job opportunities. Playing an important role in regulating the advertising that we see all around us on a day-to-day basis, we act on complaints received from the public and proactively check the media to take action against misleading, harmful or offensive advertisements. We can act on receipt of just one complaint, our aim being to ensure that our Advertising Codes are followed and that all advertising is legal, decent, honest and truthful.

You will find information on what it is like to work at the ASA and why we consider ourselves to be an attractive and competitive employer.

We are committed to supporting individual career development and all vacancies are advertised internally to give staff the opportunity to develop their careers. Indeed many of our senior executives, managers and senior management team including our Chief Executive have benefited from internal promotions.

All qualified applicants will receive consideration for employment without regard to age, disability, gender reassignment, gender identity or expression, marriage or civil partnership, pregnancy or maternity, race (including colour, nationality, ethnic and national origin), religion or belief, sex or sexual orientation.

We welcome applications from all sections of the community so if you would like an interesting and varied career in media regulation and have the passion and drive to help us achieve our goal to make every UK ad a responsible ad we look forward to hearing from you soon.

If you have any questions about working at the ASA please contact us and we'll endeavour to answer your questions.
We're committed to being a diverse and inclusive organisation. See how we're doing, with data from 2022. Our 2023 data will be available from mid-2024.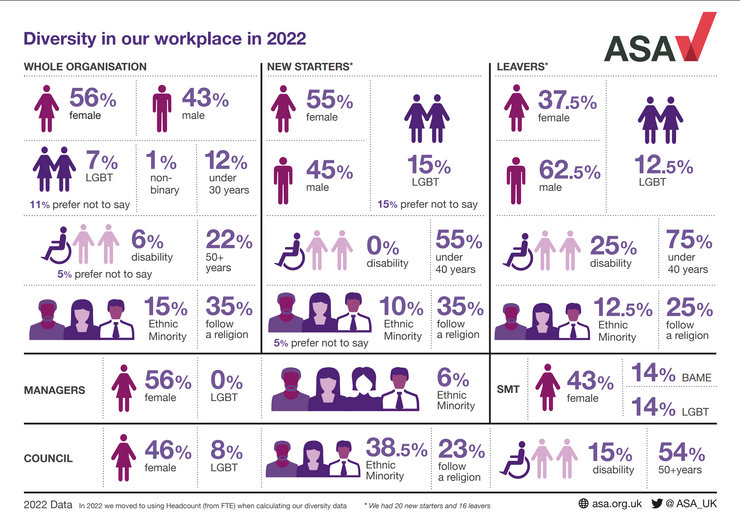 2019
2018
2017
2016