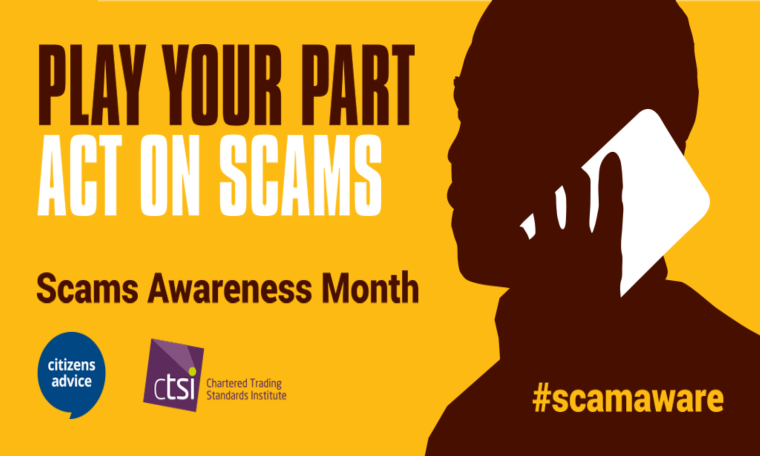 Play your part, act on scams.
We're supporting Scams Awareness Month 2017, a campaign led by Citizens Advice and Trading Standards which encourages people to report and talk about scams.
Scams and fraud affect millions of people across the UK every year, victimising and leaving consumers out of pocket. In raising awareness, the campaign aims to remind consumers that anyone can be targeted by a scammer and that by reporting scams we can all play an important part in protecting ourselves and others from falling victim.
To kick-off the campaign, Citizens Advice is focussing on 'phantom goods' scams. This involves people being caught out by deals and offers for, often high value, items and services such as flights and cars and being scammed into buying non-existent goods. On average they cost consumers an average of £1,100.
Fraudsters are advertising and listing cut price offers for a range of products on social media sites like Facebook and Instagram, and online marketplaces. They are also posting fake customer reviews to give the impression they are a reputable trader. Consumers are taking these at face value and parting with their money only to find out they have paid for something they will never get and that, in many instances, they won't get their money back for.
To help consumers avoid falling for scams, we're sharing some top tips from Citizens Advice to help avoid buying phantom goods:

• Research the trader - Don't rush into buying an item as soon as you spot a good deal. Take some time to do some research on the company or trader first by checking their protected by a trade body or they have registered address.
• Do a domain check - Type in the trader's web address to whois.com so you know they're genuine. Make sure their full address and contact details are listed.
• Look for the padlock - When buying online, look out for the padlock sign in the url bar on the payment page so you know the website is secure. The web address should also start with 'https://' and part of the wording may turn green too.
• Don't pay by bank transfer - Always use a credit card, debit card or PayPal to pay for items bought online and never pay by bank transfer. Bank transfers can be difficult to trace meaning you are very unlikely to get your money back.

When buying particular products:

• Financial products - Make sure the company is on the Financial Conduct Authority's register of approved businesses.
• Package holidays - Check the tour operator is ATOL protected.
• Used cars - Always have a look at the vehicle and paperwork in person first.
If you see an ad that you believe is misleading or could be a potential scam then take the cautious approach and get in touch with us at the ASA. It only takes a few minutes to fill out our online complaints form. We'll then look into whether an ad breaks the rules.
If you have more general concerns about whether a company or sole trader is legitimate then here's some useful advice:
Getting advice and report scams

• Get advice on an offer you've had, or find out how you can get your money back if you've been scammed, from the Citizens Advice consumer service: 03454 04 05 06
• Report scams or suspected scams to Action Fraud: 0300 123 2040 www.actionfraud.police.uk

Scams Awareness Month 2017 runs throughout July and you can get further updates and find out more about other activities planned for the month ahead by following #scamaware on social media and visiting the scams awareness campaign on Citizens Advice's website.
---
More on
---