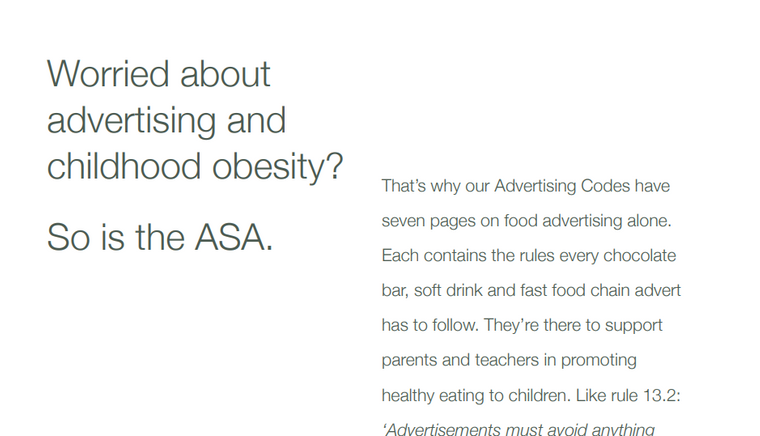 The ASA is launching the next phase of its advertising campaign – a series of ads targeted at opinion formers and the UK rollout of its consumer facing campaign – to raise awareness of its role in regulating advertising across all media, including online and social media, to protect consumers from misleading, harmful or offensive content.
The opinion former campaign aims to increase awareness of the ASA's role in regulating advertising across a range of key societal issues.
A series of ads will appear in national print titles over the next month, to highlight just some of the areas where the ASA is proactively and effectively working to ensure advertising is legal, decent, honest and truthful – climate change, gambling, alcohol, influencer advertising, and food and drink high in fat, salt or sugar.
This will be followed later this summer with the UK-wide roll out of the ASA's public-facing ad campaign, which features famous brands and their iconic straplines to help raise awareness of the ASA's role.
The ASA is partnering with Churchill, IRN-BRU, Lloyds Bank, Marmite, Mastercard and Tesco and 'borrowing' famous slogans from their much-loved campaigns so we can tell more people about the work we do in regulating ads – whether on TV, radio, in newspapers, on posters, in cinemas, in direct mail, on websites or on social media.
The campaign has been developed in partnership with the AA's Trust Working Group, with creative by The Leith Agency and media planning by MediaCom Edinburgh.
Guy Parker, Chief Executive of the ASA, said:
"We're excited to be working with some of the best-known brands and having fun with their famous straplines to help us raise awareness across the UK of our work in regulating ads to keep them legal, decent, honest and truthful.
"We know that trust in the ASA system continues to be a driver of trust in the advertising industry as a whole, so it is important we roll out our campaign across the UK to further increase awareness of the vital work we do to protect people from misleading, harmful or offensive advertising, wherever it appears.
"We are grateful to the generosity of our partner organisations for lending us their iconic straplines, to Mediacom Edinburgh for contributing its planning/buying expertise, to the media owners for donating their space and airtime, and to Leith for the engaging and impactful creative, which communicates what we do in a fun and effective way."
Evaluation of the pilot phase of the public-facing campaign, which ran in Scotland from September – December 2020 and February – March 2021, found that an increased awareness of the ASA system led directly to increased trust in advertising overall – with around two-thirds of people who saw or heard our ads in Scotland reporting that they are more likely to trust the advertising industry than those who didn't, and 50% saying they are more likely to trust most ads.
Stephen Woodford, Chief Executive, Advertising Association, said:
"This new phase of the ASA's advertising campaign is a vital next step in our efforts to rebuild public trust in advertising, a critical factor underpinning our industry's economic and social contribution. It is essential that we do all we can to support our self-regulatory system and champion its strengths to policy decision-makers and the great British public. We must ensure our product – advertising – is trusted in order to deliver everything our industry is capable of when it comes to supporting the economic recovery, creating jobs and building a more inclusive and sustainable future."
---
More on
---