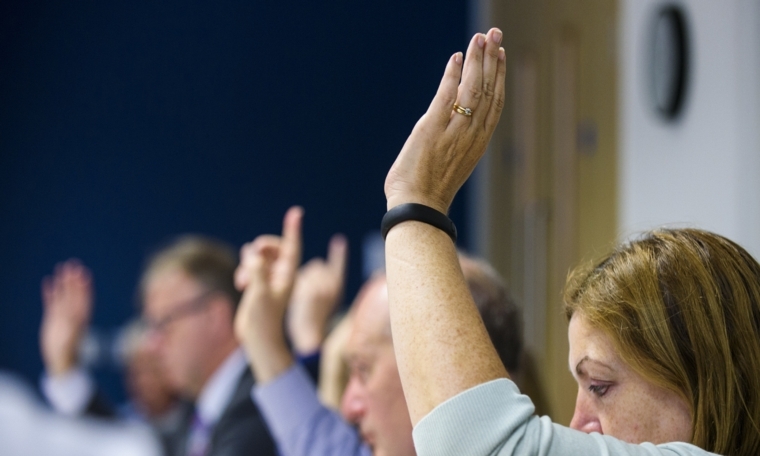 Our Chairman, Lord David Currie, has announced the appointment of four new Council members – Richard Lloyd OBE, Krystle Fonyonga, Dr Rebecca Rumbul and Alison Hastings. The ASA Council is the body responsible for deciding if an ad has broken the advertising rules and therefore needs to be amended or withdrawn. It also operates as our Board.
ASA Council is formed of 13 members of whom two-thirds are independent of industry. The remaining third have a recent, or current, knowledge of the advertising or media sector. Collectively, the members offer a wide range of skills and experiences, representing the perspectives of a wide cross section of society, including young people, families, charities and consumer groups.
Richard Lloyd OBE, Interim Chair at the Independent Parliamentary Standards Authority (IPSA); Krystle Fonyonga, General Counsel at UK Sport; and, Dr Rebecca Rumbul, Head of Research at mySociety, will all act as independent members of the Council, judging both broadcast and non-broadcast ads. They will begin their terms in April 2020.
The new appointments replace Sam Younger CBE, Shireen Peermohamed and Kate Bee, who have all come to the end of their terms.
Alison Hastings, a former newspaper editor who has also worked at the BBC Trust, the British Board of Film Classification and the Gambling Commission, will also be joining as an independent member of the Council in April 2021.
Alison will replace Suzanne McCarthy, who has taken over as Senior Independent Director for Council until the end of her term in April next year.
Of the appointments, Chairman David Currie said:
"I'm very pleased to welcome Richard, Krystle, Rebecca and Alison to the ASA Council. All four have extremely impressive backgrounds and knowledge across a wide range of roles and sectors.
They are high-calibre individuals with a depth and diverse range of experience and will bring fresh, insightful views on the rapidly changing world of advertising. I look forward to them helping us deliver our strategy, in particular in having more impact online.
I would also like to thank our outgoing Council members for their hard work and dedication during their tenures. Their professionalism and enthusiasm has been unwavering and I wish them every success in the future."
About the new Council members:
Richard Lloyd OBE
Richard is the Interim Chair of the Independent Parliamentary Standards Authority, the public body responsible for managing MPs' finances, and a board member and Chair of the Risk Committee at the Financial Conduct Authority.
He is also the Vice Chair of trustees for the Money and Mental Health Policy Institute, and has more than 25 years' experience in consumer groups, charities, housing agencies and national government.
This includes leading Which? as Executive Director from 2011 to 2016, where he was central to ensuring consumer interests were represented at the highest levels of UK government, including through helping to draft the Consumer Rights Act.
Prior to this, he was Chief Executive of the world federation of consumer organisations, Consumers International; Head of Policy at the housing charity, Shelter; and worked for two years in Downing Street as a special adviser to the Prime Minister. He was awarded an OBE in 2019 for services to the economy and consumer rights.
Krystle Fonyonga
Krystle has been a Barrister for over a decade and is currently the General Counsel at UK Sport, the government agency responsible for investing in Olympic and Paralympic sport in the UK. Prior to that she was at the Criminal Bar and has worked for OFGEM, the Nursing and Midwifery Council and the Serious Fraud Office.
She was also a Councillor and the Cabinet Member for Community Safety & Public Health at Enfield Council. In this role, Krystle led a partnership with NHS Blood and Transplant to increase the number of residents on the Organ Donor register, and in partnership with the Metropolitan Police, launched a new Violence Against Women and Girls strategy to improve services and tackle domestic abuse.
Krystle has also been a trustee for a mental health charity, a Management Board member of a pupil referral unit and a local authority school governor.
Dr Rebecca Rumbul
Rebecca is Head of Research at mySociety, a not-for-profit social enterprise which builds online technology for organisations which aim to empower citizens and their communities.
As a leading global expert in digital democracy, Rebecca consults with governments and parliaments all over the world to develop their institutional capacity, supporting evidence-based development of policy and practice around digital tools for participation, transparency and accountability. She is frequently invited to speak at international events as a leader in the field of civic technology and citizen engagement, and has published extensively in peer-reviewed journals.
She holds a PhD in politics and governance, and has worked actively as a researcher for many years. She lives in Cardiff and has lectured in politics at the city's university.
Rebecca is a fellow of the Royal Society of Arts, and in 2015 was awarded a Winston Churchill Memorial Trust Fellowship. She is a political commentator in Wales, appearing regularly on TV and Radio.
Alison Hastings
Alison has worked in the media for more than 30 years. She started out as a journalist before rising up the ranks to become the Editor of the Newcastle Evening Chronicle. She lives in Liverpool and says she's always been keen for organisations to truly represent the country as a whole.
More recently, Alison has worked for various media focused businesses. She was a Press Complaints Commissioner; the BBC Trustee for England for eight years, Chairing their Editorial Standards Committee; and Vice President of the British Board of Film Classification. In 2016, she joined Archant's board of directors.
Alison is currently Vice Chair of an NHS Foundation Trust and a non-exec on several other Boards, including Durham University and Motability Operations. She also advises Pagefield, an independent communications consultancy, in various capacities.
---
More on
---