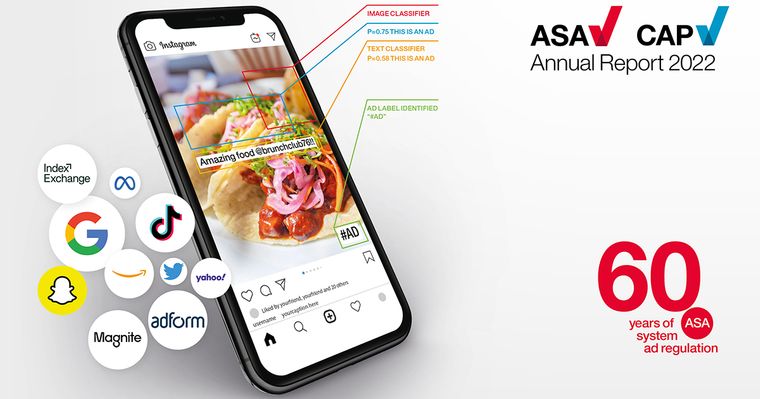 Published today, the 'one-stop shop' ASA system's Annual Report 2022 looks back on 60 years of advertising regulation and how we have evolved and are continuing to respond to legal, societal and technological change. And it looks ahead as we complete the final year of our More Impact Online five-year strategy and begin work on our next one.
The report highlights how we're exploring future-proofing our system through the Intermediary and Platform Principles pilot, working with the world's biggest online ad supply businesses to promote the Advertising Code and improve enforcement. And we're rapidly growing our data science team and using AI to meet the challenge of monitoring online ads.
We explore how, with innovative technology at the forefront, we've undertaken proactive projects that tackle big issues: ads mis-targeted at children; unevidenced green claims; irresponsible crypto ads; and hidden influencer ads. All of which, in the last year, have seen us introduce or prepare new rules and guidance on environmental claims and 'greenwashing', online ad-targeting, gambling, telecoms pricing, body image and alcohol alternatives.
We also include in our Annual Report some key statistics about the number of cases we handled, and how many pieces of advice and training we delivered to advertisers in 2022.
Our Report highlights key milestones during our 60-year history. We chart how our remit has expanded over the years to take on TV and radio (2004), in a co-regulatory partnership with Ofcom (marking the start of the 'one-stop shop'), and how we have adapted to the challenges of online, including in 2011, when our rules extended to cover advertising claims on companies' own websites and social media accounts. A timeline reveals the now infamous ad campaigns which prompted hundreds, and in some cases thousands, of complaints – from the Benetton 'baby' ad in the 1990s and a naked Sophie Dahl in an Yves St Laurent ad in the 2000s, to KFC's singing call centre workers (2005) and our most complained about ad of all time, Paddy Power's Oscar Pistorius themed ad (2014).
ASA Chief Executive, Guy Parker says:
"Responsiveness to change is as important today as it was when the ASA was formed in 1962. We've had to be agile and evolve in light of huge legal, societal and technological changes during that time – protecting people, providing a level playing field for responsible businesses and working collectively with other regulators and industry. The 'one-stop shop' ASA system, with the independent ASA at its heart, provides clear benefits to the public, businesses and society. With the pace of change accelerating, we remain focussed on ensuring ads continue to be legal, decent, honest and truthful in the years ahead."
---
More on
---