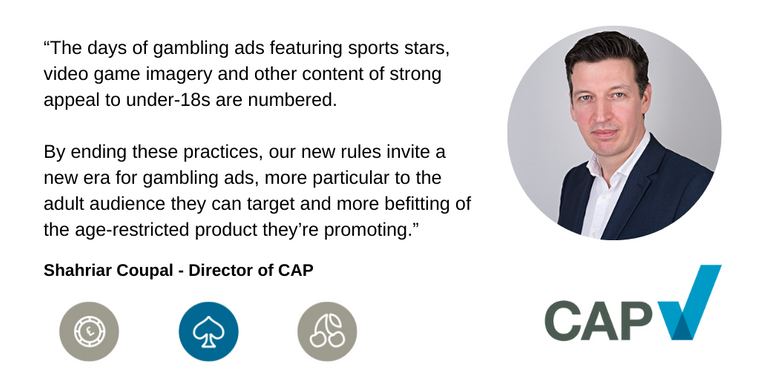 We all know that gambling is for adults only, yet its advertising sometimes includes themes and images that can appeal to children. New rules, which we have announced, invite a new era for gambling advertising: one that's more tailored to its adult audience and more befitting of the age-restricted product being promoted.
From October, the independent Advertising Standards Authority (ASA) will ban gambling ads that appeal strongly to under 18s. This might not seem immediately significant, but its effect – particularly in a World Cup year – will be dramatic.
We've always taken seriously our responsibility to protect young people. We ban gambling advertising from exploiting children's vulnerabilities, including by featuring content that reflects youth culture or anyone who is or appears to be under 25 years old. The new 'strong appeal' rules go further; they're a step-change that strengthen the protections we afford.
No more topflight footballers or other high-profile sportspeople promoting the latest odds. No more social media influencers, TV stars or other celebrities popular with children inviting us to bet on red. And, no more gambling ads featuring video game images or gameplay familiar to many children's lives.
We're introducing these measures based on key findings from research commissioned by BeGambleAware (the safer gambling charity) and the results of a public consultation that tell us these are the right steps to take.
As an evidence-based regulator we use the best intelligence to inform the media restrictions we place on gambling ads and the content they feature. With a forthcoming ASA report showing children's exposure to TV gambling ads is now averaging 2.2 ads per week (the lowest level in twelve years) and a new 'strong appeal' rule to strengthen the restrictions already in place, CAP and the ASA are playing their part in helping to protect children and other vulnerable persons from being harmed by gambling advertising.
Our announcement today bears out our commitment to staying on top of the latest evidence, ensuring the rules and guidelines remain up to date and effective.
Importantly, our rules extend across all media, including online and the social media platforms popular with children. As gambling itself has increasingly become an online activity and its advertising has proliferated, it's crucial that we set the rules and deliver the enforcement to keep children and other vulnerable groups safe online.
At CAP, we're in the business of telling advertisers what not to do. By introducing a ban on strong appeal to under 18s, however, we're also inviting a new era in gambling advertising, one more tailored to its adult audience and less likely to appeal to a broader audience.
It's time for gambling advertising to shape up and meet this challenge.
This article was first published in The Drum on 6 April 2022.
---
More on
---