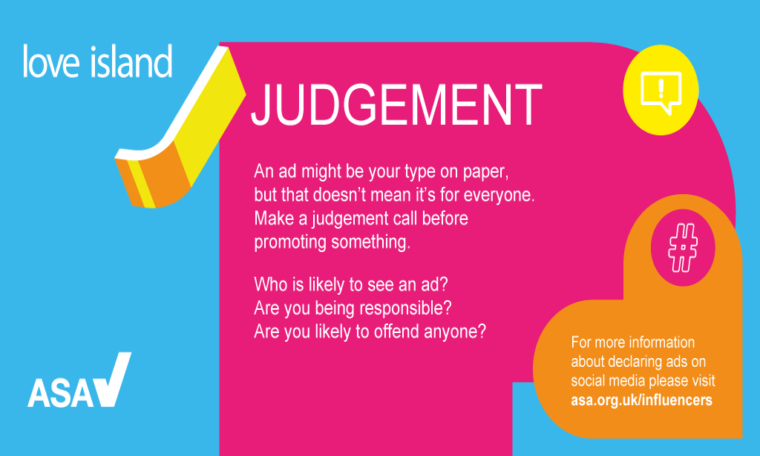 We've partnered once more with ITV to help Love Island contestants understand the advertising rules on social media, which apply to all influencers and celebrities, by publishing an updated cheat sheet explaining the ad rules.
Given the popularity and success of the show, many brands and companies may look to enter into commercial partnerships with contestants as a quick and effective way of reaching and promoting directly to their social media followers. While there is nothing wrong with that, it's important that all parties know and understand how and when the advertising rules apply to them to ensure the public aren't being misled.
The ASA and ITV want to help Love Islanders get their posts right and to avoid finding themselves on the wrong side of an ASA investigation.
Like the first edition, this cheat sheet equips Love Islanders (as well as other influencers) with a quick reference guide on how to be upfront and clear with their followers when their social media posts are ads.
This new edition, however, also includes other rules that influencers should be aware of, such as our rules on prize draws and social responsibility. We've added these topics because we've seen instances of influencers breaking these rules, such as an Instagram giveaway by Molly-Mae Hague which was not administered fairly and irresponsible claims made by Gemma Collins about weight loss products.
Consumers shouldn't have to play detective in working out when what they see, hear or interact with is a commercial message. The rules apply equally online and to social media including paid-for posts by influencers and celebrities.
In March, this year we released our Influencer Monitoring Report, examining levels of ad disclosure on Instagram through 122 UK-based influencer accounts. We discovered inconsistent disclosure through Stories, posts and Reels, with our rules being followed (when posts were ads) only 35% of the time.
Following on from this report, in June, we launched a new dedicated page on our website, highlighting individual influencers who, despite being put on notice that they would face further sanctions if they did not follow the advertising rules, have repeatedly failed to disclose when their Instagram posts are ads.
This cheat sheet will help Love Islanders ensure they don't fall foul of our rules and end up on our webpage and at risk of other potential sanctions.
On top of the cheat sheet, we will work with ITV to signpost more detailed guidance when necessary and to make advice and training resources available to influencers. ITV will also be contacting the talent agencies that represent contestants to make them fully aware of the advertising rules and their responsibilities in helping their clients stick to them.
---
More on
---