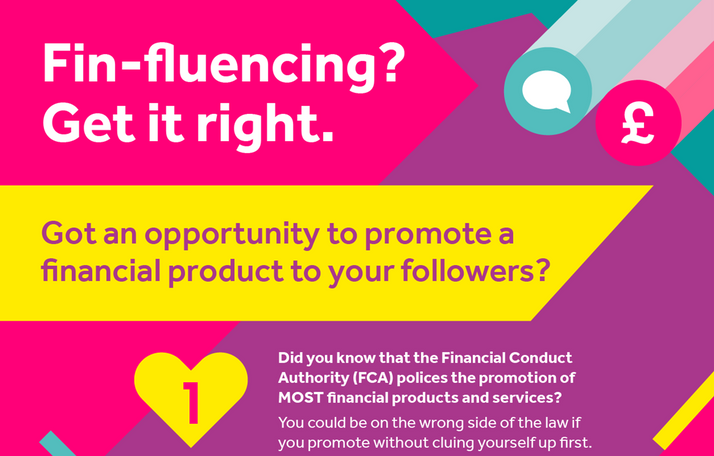 The Advertising Standards Authority (ASA) has partnered with the Financial Conduct Authority (FCA) and former Love Islander Sharon Gaffka, including with a new infographic, to help educate influencers about the potential pitfalls of promoting financial products, or 'finfluencing'.
We've worked hard to ensure that influencers understand the rules around posting ads on social media. While we've seen better levels of ad disclosure and rule following generally, we're aware that there are still some issues. And one area where there have been problems previously is in advertising financial products.
Many financial products are highly complex and technical, and influencers must be aware of all the rules before committing to marketing them. It may be tempting to 'finfluence' but there are real risks involved, both for consumers and the person advertising these products.
That's why we've partnered with the FCA and Sharon Gaffka to help explain to influencers why they should think twice before finfluencing.
Together we'll be engaging with influencers and their agents, providing them with clear information about what could be an illegal financial promotion. This includes an infographic, designed for influencers, which will set out what they should check before accepting brand deals for financial products and services.
And later this year, influencer agents and the Influencer Marketing Trade Body will be invited by the FCA to an open roundtable discussion on illegal financial promotions.
Sarah Pritchard, Executive Director, Markets at the FCA said:
'We've seen more cases of influencers touting products that they shouldn't be. They are often doing this without knowledge of the rules and without understanding of the harm they could cause their followers.
'We want to work with influencers so they keep on the right side of the law, as this will also help protect people from being shown scams or investments that are too risky.'
Miles Lockwood, Director of Complaints and Investigations at the ASA said:
'We've worked hard to ensure that influencers are equipped with the training and advice they need to help them advertise responsibly. From setting up a dedicated webpage to highlight those who are publishing misleading content, to using cutting edge data science to process more ads than ever, we're seeing influencers increasingly understanding and following the rules.
'But we recognise that there are still problems, particularly around financial products. That's why we're pleased to be partnering with the FCA and Sharon Gaffka to help educate influencers about the risks and responsibilities around marketing these products.'
Sharon Gaffka, social media influencer, said:
'When you leave a show like Love Island, you are bombarded with opportunities to promote products and work with brands, if like me, you're new to this kind of work, it can be a little bit overwhelming.
'This campaign with the FCA and ASA will hopefully make sure other influencers stay on the right side of the law and prevent them from unknowingly introducing their followers to scams or high-risk investments.'
---
More on
---