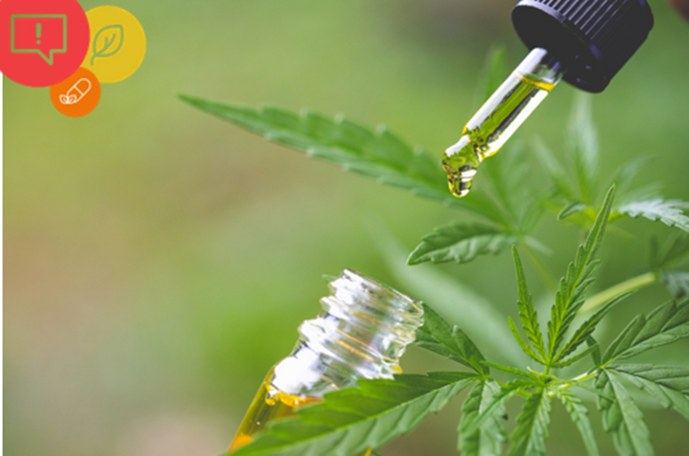 8 August is National CBD Day! Why don't you relax, chill out and have a read of our latest advice on advertising CBD containing products?
Make sure your product can legally be sold
CBD food products such as drops and gummies are considered Novel Foods, which must be authorised by the Food Standards Agency (FSA) before they are put on the market. You can find more information about the authorisation process here. For CBD products already on the market by 13 February 2020, an application needed to be made before 31 March 2021 and validated (or sufficiently progressing towards validation) by the FSA, in order to remain on the market (a list of such products can be found here). Applications made after 31 March 2021 must wait for full authorisation before being marketed. Marketers should not state or imply that their CBD food product has been approved or authorised by the FSA if it does not have full authorisation – as illustrated by this ASA ruling.
Be mindful of health claim rules for foods
We are aware that CBD is anecdotally associated with various benefits. However, foods and food supplements, including oral CBD products, are subject to rules which significantly restrict the type of health and nutrition claims that can be made. Essentially, claims about the health benefits of oral CBD products can only be made if they are authorised on the GB NHC Register for CBD (as an ingredient). Additionally, claims to treat or cure "human disease" (which has a very broad interpretation – including hangovers!) are completely prohibited. This ASA ruling examined many of these factors. These are complex issues so marketers should look at our advice in this area.
Don't present CBD as a medicine unless it appropriately licenced
In most instances, claims to treat disease with oral CBD products are dealt with under our food rules. However, it should be noted that the Medicines and Healthcare products Regulatory Agency (MHRA) has stated that if a CBD product is to be used for a medical purpose, it needs to be licenced as a medicine before it can be advertised. The ASA ruled on an unlicensed topical skincare CBD product which made medicinal claims that it could "target areas of pain". The ASA also considered content which referenced the physical and mental health benefits of CBD,
including anxiety, psychosis, and chronic illnesses, also constituted medicinal claims for an unlicensed product. Ads containing similar claims for another marketer's topical product were also upheld by the ASA.
Hold robust clinical evidence for health benefits of topical products
Non-medical claims for topical products need to be supported by documentary evidence, most likely in the form of clinical trials on people. Anecdotal evidence or customer testimonials are not going to be sufficient. See this CAP Guidance for full information on the types and levels of evidence you would need to hold.
For more detail on these points, see our AdviceOnline article on CBD products. Our Copy Advice team is also available to provide bespoke advice on your non-broadcast advertising in terms of the CAP Code.
---
More on
---