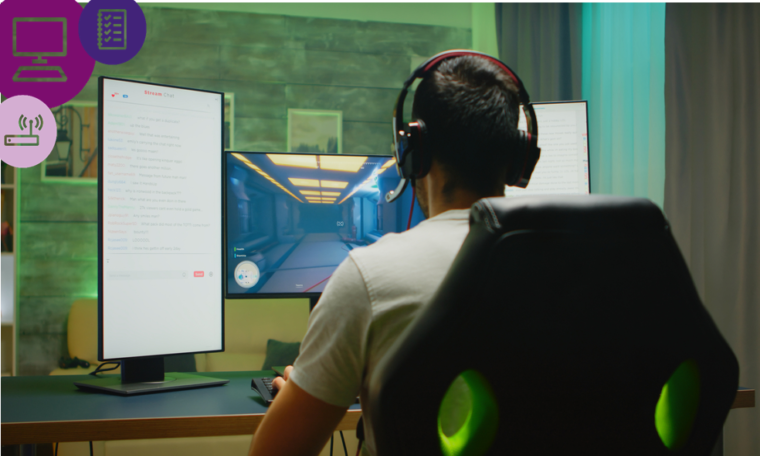 With the rise of live-streaming platforms, we're seeing more and more influencer marketing activity within this content. Streamers need to know that some of their content may be classed as advertising and that, if so, there are rules (and guidance) that apply to them.
What is live-streamed content?
Many social media services now offer the ability to live-stream content – that is, to upload a video feed in real-time, rather than finished images and video files. This means an audience is watching live. This includes content such as:
Video game streaming sites (Twitch, Mixer, DLive)
Live video feeds on social media (Facebook Live, YouTube Live, Periscope)
What does the CAP Code say?
As well as paid-for ad space on the site itself (such as banner ads or pre-roll/in-video ads), there are other marketing communications on these platforms that fall within the scope of the CAP Code.
When a brand gives an influencer a 'payment' (i.e. any form of monetary payment, free loan of a product/service, any incentive and/or commission or a product/service has been given free), any resulting posts promoting the brand become subject to consumer protection law enforced by the Competition and Markets Authority (CMA). When a brand also has editorial control over the content, the ASA can apply the CAP Code as well.
The CAP Code also applies to affiliate marketing, promotional marketing and instances where an influencer is promoting their own products or services. This might be in the video feed, but could also be in the 'about' section of a channel.
What do live-streamed ads look like?
Advertorial
An advertorial is where a marketer/brand (the advertiser) pays a publisher (the streamer) and that publisher promotes them as part of their usual (editorial) content. This could be:
A whole video about a product
A spoken message during a video
A banner overlaid on the video
A separate 'video ad' played in the feed (by the streamer, not the platform)
Online space under the advertiser's control
Sometimes, the streamer is an advertiser too, and uses their live feed to promote their own products. This might be:
Requests for subscriptions
Requests for tips/cheers/emotes
Messages about their own products, such as merchandise
Usually these ads are only a couple of sentences or a few minutes within a more general video, although sometimes a streamer might do a whole session about (for example) an upcoming merchandise release.
Affiliate marketing content
Some streamers will provide affiliate links or codes for brands or products featured in their videos, many of which will offer a discount to the purchaser and result in the brand paying the streamer. References to affiliate-marketed products are ads, and this should be clearly apparent.
Promotional marketing
Often called 'giveaways', live streamers may take part in promotional marketing whether by themselves or in partnership with a brand. This type of marketing activity is extensively covered by the CAP Code.
Charity streams
It has become popular, particularly amongst video game streamers, to run streams for charity fundraising. As part of these events, streamers will solicit donations and make claims about how money raised will be donated to charity (e.g. a percentage of tips or subscription fees during the event). Although not marketing a product, such content is considered to be advertising.
What do streamers need to consider?
In-depth guidance on complying with the ad disclosure requirements in the CAP Code is available here. Other guidance on issues like promotional marketing and factual accuracy can be found in CAP's resource library. At a glance, the key aspects that streamers need to think about are:
Is it clear to my audience when something is an ad?
Are all my claims factually accurate and backed with evidence?
Does my giveaway have all the necessary terms and conditions?
Is the content appropriate for my audience?
As well as these resources, streamers and brands can contact the CAP Copy Advice team for free bespoke advice.
---
More on
---