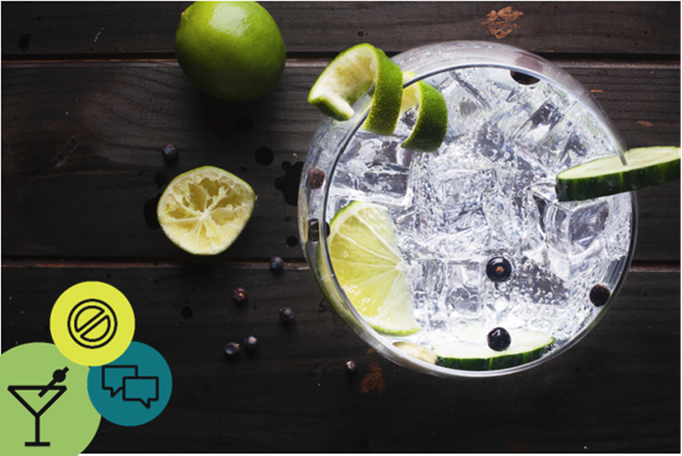 19 October marks International Gin and Tonic Day. Whether you're promoting gin, wine, beer, low alcohol alternatives, or even mixers, make sure your social media ads are responsible and avoid misleading consumers by using our 'gin-formative' guide, which includes some useful examples of gin ads the ASA has ruled on.
Do not encourage or condone unwise or excessive consumption
Alcohol ads must be socially responsible and must contain nothing that is likely to lead people to adopt styles of drinking that are unwise. So, your ads should not encourage or condone excessive drinking. The Scottish Gin Society was found to have breached rule 18.1 by implying that alcohol should be drunk at all times, including as a way to quench thirst. Their ads also encouraged readers to consume alcohol even if their health was suffering and suggested that drinking gin instead of abstaining from alcohol for Dry January was a smart decision. While the ASA noted the light-heartedness of the Facebook posts, they considered the ads had the effect of condoning and encouraging excessive drinking, so the complaint was upheld.
Read more: Alcohol: Unwise or excessive consumption
Do not make any health claims and ensure that you only use permitted nutritional claims
Health, fitness or weight-control claims are prohibited in alcohol ads, and the only permitted nutrition claims are "low-alcohol", "reduced alcohol" and "reduced energy" (rule 18.17). The ASA challenged whether Instagram and Facebook posts for Ramsay's Gin broke the rules by including nutrition claims that were not permitted for alcoholic drinks. The ad stated that the Honeyberries in the gin "retain […] micro-nutrients" and that the product contained "more antioxidants than blueberries, more potassium than bananas, more vitamin C than oranges", which were not permitted, so the complaint was upheld.
Read more: Alcohol: Health, diet and nutritional claims
Do make sure your ads are targeted responsibly and consider the age of anyone featured
Whether consumers are viewing your social media posts on your own page, or you are paying for sponsored ads; you must ensure that you responsibly target your alcohol ads so that they are not directed at those aged below 18 years through the selection of media or context in which they appear (rule 18.15).
One example of targeting correctly was a YouTube video for Yogscast Jaffa Cake Gin. The complainant believed the YouTube channel had a large following with young people; however, the advertiser was able to demonstrate that the overall viewing figures in the past year showed 97.9% of the audience were over 18, and the ASA also considered that the content of the channel reflected the interests of older demographics, so the case was not upheld.
Advertisers should also consider who is prominently featured in an alcohol ad and ensure that they are not or do not appear to be under 25. For example, by having a youthful appearance or being dressed in childlike manner; as was the case with a Facebook post by the The Gin Lab, which was upheld as a breach of rule 18.16.
Read more: Alcohol: Targeting and Appeal to Under 18s and Alcohol: Featuring under 25s
If you need further advice on your non-broadcast alcohol ads, why not consider a Copy Advice chaser, to hopefully avoid an ASA hangover.
---
More on
---