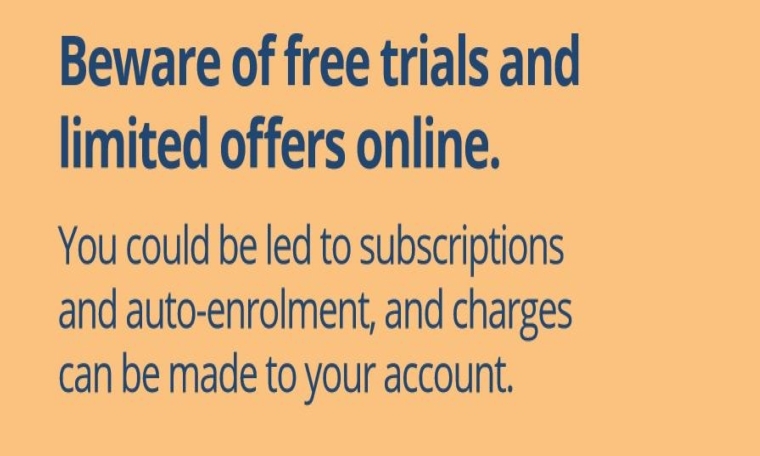 We are supporting National Consumer Week 2017 which this year focuses on subscriptions and subscription traps.
Working with other organisations, including Citizens Advice, National Trading Standards and the Competition and Markets Authority as part of the Consumer Protection Partnership, our aim is to raise awareness and understanding amongst consumers about subscriptions so that they are better equipped to make informed choices and know who to turn to if something has gone wrong.
We're providing some top tips for consumers about what to look out for when responding to an ad for a subscription plan. While we don't regulate subscriptions themselves, we are here to make sure ads that encourage consumers to sign-up to one do not mislead them about the nature of the offer. We're also highlighting some case studies of ASA rulings to highlight where advertisers have broken the rules.
Help and advice for advertisers
Crucially, we're also helping advertisers get their ads right. CAP has today launched new guidance on "Free trial" or other promotional offer subscription models. It provides clear examples of the dos and don'ts when advertising offers that invite consumers to take advantage of a "free trial" product offer, test subscription, or other promotional benefit before enrolling them into making ongoing payments.
Regulating ads for subscriptions
Our role is to ensure that the ads we see and hear are truthful, treat consumers fairly and do not mislead. That includes making sure promotional offers, often online, which enrol consumers into making ongoing payments (known as subscriptions) are upfront and clear about what customers are signing up to.
Consumers often sign-up to an ongoing paid subscription in order to take advantage of a "free trial" or other promotional offer. Unless cancelled, the paid subscription continues after the trial period has ended. Money is most commonly taken out of customer's accounts on a monthly basis.
Subscriptions are not, in and of themselves, a problem. But if a consumer unknowingly agrees to enter into making ongoing payments because an ad they responded to did not include significant conditions, or those conditions were not clear, then it is likely to be misleading and unfair. This situation has been described as a "subscription trap".
Commenting on National Consumer Week and our work in tackling misleading subscription offers ASA Chief Executive, Guy Parker says:
"Promotions which encourage people to sign-up to ongoing payments must be upfront and clear about what exactly they're agreeing to. Burying key information in the terms and conditions can be misleading and unfair and risks leaving consumers out of pocket. We support National Consumer Week and are reminding people to ensure they understand fully the extent and nature, as well as the financial commitment, of a subscription offer before signing up to it."
Our Top Tips for Consumers:
If you're taking advantage of a "free trial" offer and are unsure about the nature of the deal or are uncertain about whether you're entering into a subscription plan, here is some helpful advice: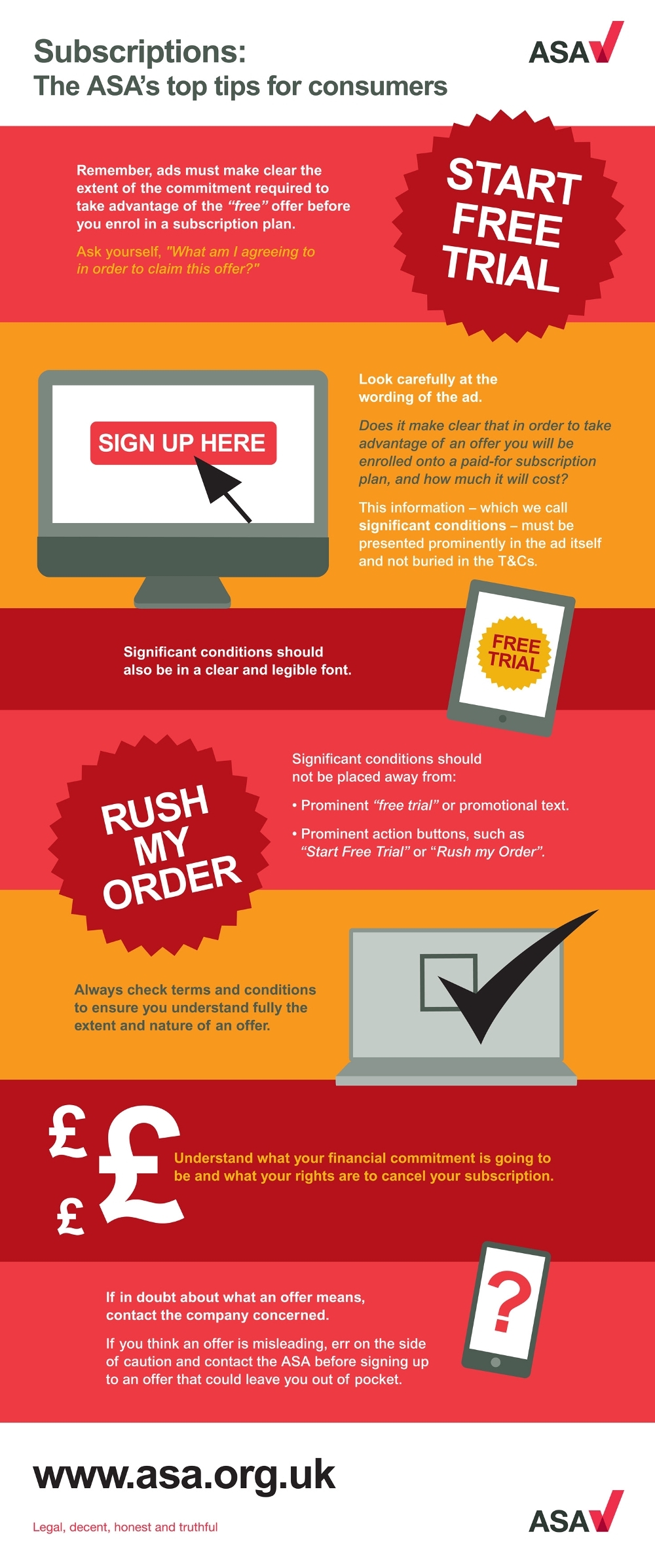 We encourage consumers who feel they have been misled by an ad into making ongoing payments as part of a subscription plan to get in touch. We will hold misleading advertisers to account and take action to have problem ads changed or withdrawn.
Case studies:
When Ms X from London visited a website for an online shoe retailer, JustFab (UK) Ltd, she saw a promotion inviting her to become a "VIP Member". Becoming a member would mean getting "75% Off Your First Item" and enjoying "member-only pricing on all full-priced styles". All she had to do to take advantage of this offer and get her first pair of shoes at the discounted price was take a "short style quiz" and then register as a member.
However, after taking advantage of the offer she was surprised and disappointed to discover she was enrolled on a £35 per month subscription contract. Feeling misled by the promotion, Ms X complained to the Advertising Standards Authority (ASA).
The ASA launched a formal investigation and found the ad broke the rules. It was a problem because unless consumers purchased another pair of shoes or signed into their account and clicked on the "skip the month" button by the 5th of each month, they would be charged a monthly subscription fee of £35. This was important information likely to influence a consumer's decision to take advantage of the offer. It therefore needed to be prominently presented in the ad as a significant condition, before consumers proceeded any further with their journey on the website.
The ASA told JustFab (UK) Ltd to ensure that their advertising made sufficiently clear and prominently presented the condition that consumers joining the website as a "VIP" member would be enrolling on a subscription contract and the specific action they needed to take to avoid the monthly fee of £35.
Mr Y of Liverpool was a beer enthusiast so when he received a leaflet which stated "FREE CASE of craft beer Exclusive free pack of 8 craft beers from the UK's No.1 craft beer club!" and featured a red bubble with the text "£5.95 P&P" he was eager to find out more about the offer. When he looked into things further, he discovered that to claim his "free" crate of beer he was required to enrol on a paid-for subscription. He was annoyed because he didn't feel that had been made sufficiently clear in the ad.
The ASA looked into this matter for him. It turned out that in order for consumers to claim their free crate of beer they had to agree to enrol onto a paid-for subscription service costing £24 per month, and to avoid that cost consumers had to cancel their subscription at least two days before the 28-day billing period.
The other side of the leaflet featured further reference to the free crate of beer as well as a prominent graphical illustration outlining what consumers had to do to obtain it. Because the focus of the ad was on the free crate of beer, it needed to make sufficiently clear that the offer was conditional upon consumers agreeing to subscribe to a paid-for membership service, which also needed to be given sufficient prominence.
Because enrolling on a paid-for subscription was important information likely to affect Mr Y's decision to take advantage of the free offer, it needed to be presented from the outset in the leaflet before he visited the beer52 website.
---
More on
---