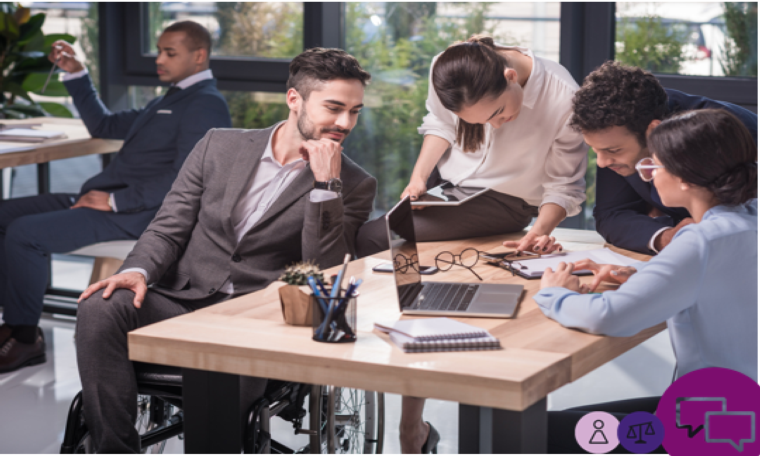 On 3 December, we saw the UN's International Day of Persons with Disabilities. In honour of the day, we have grouped together three key things to avoid, and two other points to consider, to help you ensure your ads don't breach the Code if referencing disability.
Disability is a protected characteristic under The Equality Act 2010, and is listed in the Codes as something which advertisers must ensure that they do not present in a way which is likely to cause serious or widespread offence.
Don't mock disability, or people with a disability
Even if it's meant as a 'light-hearted joke', ads which are likely to be interpreted as mocking disability or people who have a disability will be a problem, and likely to cause serious or widespread offence. Any content which could be seen to belittle people with a disability or imply that they cannot perform everyday tasks will be problematic, and mimicking individuals with a focus on their disability is a no-go.
Don't present negative stereotypes about people with disabilities
Unfortunately, negative and erroneous stereotypes about people with disabilities still exist, but presenting any of these stereotypes or making any other negative generalisations about disability should always be avoided. A Halloween costume which featured restraining shackles and belt and a restraining face mask was advertised as an "Adult Skitzo Costume". The ASA felt that this presented negative stereotypes of a mental illness by implying that those who suffered from schizophrenia were violent and murderous.
Don't trivialise or make light of disability
Using disability in a flippant way in advertising will be seen as trivialising the issue and is likely to cause offence. A Paddy Power ad was upheld by the ASA because the use of the pun "MONEY BACK IF HE WALKS" used in relation to the trial of Oscar Pistorius made light of disability.
Charity ads
Ads for charity are often given more leeway by the ASA when assessing the likely offence caused. Charity ads can often include hard hitting messages and these can be more effective if presented in a way which may have been problematic if used by a commercial company. For example, the Disabilities Commission used the text "I'M GOOD FOR NOTHING" alongside an image of someone with a disability. In the context of an ad which highlighted and challenged the misconceptions that people have about those living with a disability this direct approach was not considered problematic by the ASA.
Provide information about accessibility, if needed
As well as ensuring that ads do not cause offence, they must not mislead. Ads may be misleading if the omit material information and in some circumstances, accessibility details may be considered material. Whether this is the case or not will differ on a case by case basis, but you should consider whether this information is necessary for the consumer to make an informed decision. The medium in which the ad appears is likely to have an impact on this, as is demonstrated by an upheld ASA ruling concerning an ad for a holiday which appeared in a disability lifestyle magazine, but did not state that the holiday was not suitable for certain access requirements.
For more guidance, our Copy Advice team is available to provide bespoke advice on your non-broadcast advertising in terms of the CAP Code.
---
More on
---