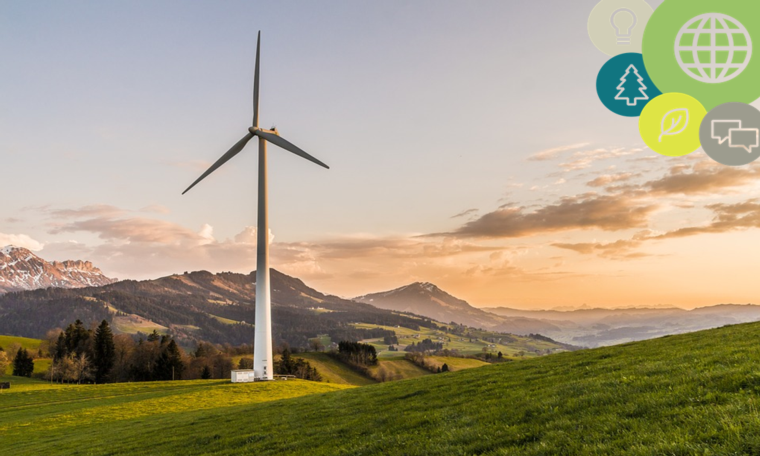 The epoch defining events of 2020 – a global pandemic, Black Lives Matter, deteriorating relations between the West and China, Brexit – have created a climate of political and economic uncertainty, disruption and social change.
But there is another unfolding event occurring right now and of all of them, years from now, it's likely it will be the Earth's climate emergency and unfolding environmental crisis that will still be our top priority.
Humanity's impact on the environment is inescapable. Climate change, deforestation, pollution, dwindling natural resources and a catastrophic loss of biodiversity all make for a grim indictment of our stewardship of our planet.
A wind of change, however, may be in the air.
The election of Joe Biden promises a new focus, in the US, on the green agenda and its environmental and energy policy. Perhaps in years to come this new commitment to tackle climate change from the new President-Elect will be heralded as one of the most important decisions this century? Time will tell, and while global powers and institutions, and big business are key to influencing our ability to tackle climate change, we're looking closer to home to what role advertisers and we can play at the ASA.
The advertising industry undoubtedly plays a significant role in promoting consumerism. So what are they doing to improve their environmental credentials?
Well, today marks a welcome milestone with the Advertising Association's announcement of their Ad Net Zero plan. This plan is a big step forward towards committing the ad industry to commit to minimise their own carbon footprint in the creation of ads and is to be applauded. Importantly the plan also commits the ad industry to influence the creative content of ads to promote more sustainable messages.
This matters because we know that ads can influence the things we buy and how we consume. Advertising can therefore play an important role in influencing how people respond to the challenges facing the planet – for instance by encouraging us to choose products that have less impact on the environment, supporting green initiatives, sustainable energy choices and recycling more.
The ASA is playing its part, too.
We've been regulating environmental claims for decades and I firmly believe we can credibly claim to have done more to tackle misleading greenwashing claims than any other regulator in the UK to date. Our interventions are important, not only because they prevent incidences of companies hoodwinking consumers, they also create a level playing field in which businesses are encouraged to improve their green credentials in order to take advantage of consumers' increasing eagerness to "go green".
Some marketers push boundaries too far when making green claims, others fall foul of some of the technical complexities that can occur when making such claims. Whatever the causes, we're here to police environmental claims and to protect consumers in an area where there is increasing interest and concern.
Our rulings set high standards for acceptable environmental claims. To name just two: It was in 2007 that we upheld a complaint about Shell for making recycling claims about its own waste CO2 emissions that they could not evidence as fact. Fast forward 13 years and in 2020 we called out Ryanair for claiming they had the lowest airline emissions, which they were unable to prove.
We've tackled a bewildering array of environmental claims in recent years. They range far and wide from electric vehicle emissions, wind farms, "green" electricity, fracking, carbon neutrality and biodegradability claims to name but a few. And the issues we are seeing are increasing in number as the environment becomes more pressing an issue to consumers as they become ever more eco-conscious.
We've set standards and we'll continue to take action. But we're not resting on our laurels.
We can and will go further.
That's why we've launched our own Climate Change and the Environment project. We'll be taking stock of how effective our rules are in governing environmental claims. This will include us reviewing how regulators and legislators, at home and abroad, are upping their efforts in this area including through their development of new rules that tackle depictions of excessive consumption in ads. We'll be proactive in tackling new and emerging misleading green claims and will aim to develop the advice and guidance we offer advertisers so they can make responsible and accurate environmental claims.
We'll also seek to practice what we preach by improving our own environmental impact.
The ASA will also look to work closely in partnership with others. In particular with the Competition and Markets Authority who have recently announced their own enquiry into this subject.
Advertising is only part of the puzzle that needs to be tackled if we are going to make a meaningful difference. Fundamentally, the challenge of tackling the climate emergency invites action from all of us to adapt how we live our lives.
But the ad industry, regulatory partners and we here at the ASA are using this year as an opportunity to gear up to make a difference.
Let's make sure 2020 will also be remembered for that.
---
More on
---