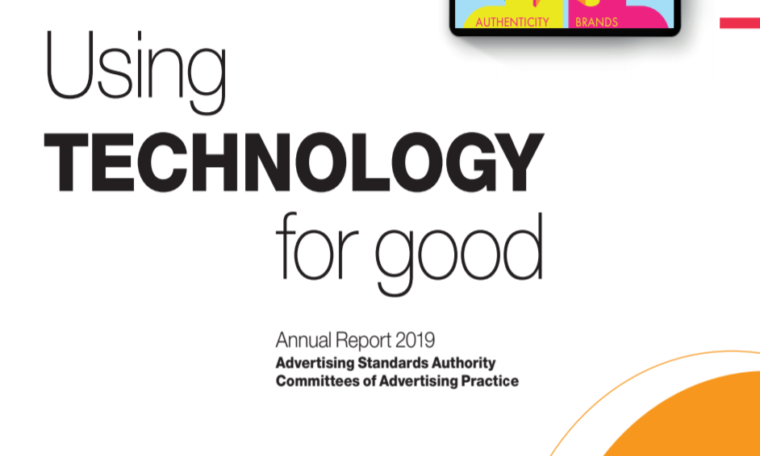 The Advertising Standards Authority (ASA) and Committee of Advertising Practice (CAP) Annual Report 2019, published today, reveals how the use of technology has helped us to be more effective in how we regulate UK advertising and protect consumers and businesses.
As part of a five year strategy to have more impact online, the report details how we are using cutting-edge technology to proactively monitor and take enforcement action to tackle problem ads at scale and speed, including:
Using new avatar monitoring technology to visit over 250 websites 196,000 times
Which helped the ASA capture and review 95,000 ads and take action against the small number of ads where the rules were being broken, in order to protect children
In a year of big numbers, the report also reveals:
The ASA resolved 34,717 complaints about 24,886 ads
Of those:
16,767 complaints were about 14,775 online ads
9,971 complaints were about 5,216 TV ads
Complaints about influencer advertising made up more than a quarter of all online complaints – 4,401 complaints about 3,670 ads
And resolved 4,469 own-initiative compliance cases resulting in 8,881 ads being amended or withdrawn
Working with over 25 trade bodies, regulators and pharmaceutical companies CAP's Enforcement Notice on social media Botox advertising was sent to over 130,000 practitioners across the cosmetics services industry, with over 12,000 irresponsible Instagram posts removed in one quarter)
An online ad to promote compliance with the Botox Enforcement Notice reached 1.39m people
CAP also continued its focus on prevention rather than cure by upping its support to businesses to help them get their ads right. Last year, it provided 550,242 pieces of advice and training including to almost 1,500 people through a series of webinars and its eLearning modules. It answered 6,973 queries through its Copy Advice service and its Influencer Guide was download over 15,000 times.
The report also highlights how ASA and CAP are changing the way they work, through a combination of prioritisation (taking and 'education first' approach to help deliver lighter touch regulation where appropriate), improved partnership working and proactively taking action to tackle misleading and irresponsible ads.
A rebalance away from reactive complaints led work has provided greater scope to work more closely with partners [Competition and Markets Authority, Gambling Commission, National Trading Standards and Medicines Healthcare Products Regulatory Agency] to bolster regulation of website ad claims. Alongside that, we continue to work more closely with online platforms and networks to tackle bad paid-for ads. Last year also saw education and enforcement action around misleading or irresponsible influencer advertising. While ongoing monitoring of TV ads is helping ensure the rules continue to limit children's exposure to age-restricted ads for products such as alcohol and gambling.
ASA Chief Executive, Guy Parker says:
"Harnessing innovative technology to tackle misleading or irresponsible ads is playing a big part in helping us deliver more effective regulation for consumers and business. And we have some exciting plans ahead, including investment in data science and machine learning. All of which is enabling us to be more proactive and fleet of foot in delivering our ambition to make UK ads responsible, wherever they appear."
Read the Annual Report 2019 now.
---
More on
---