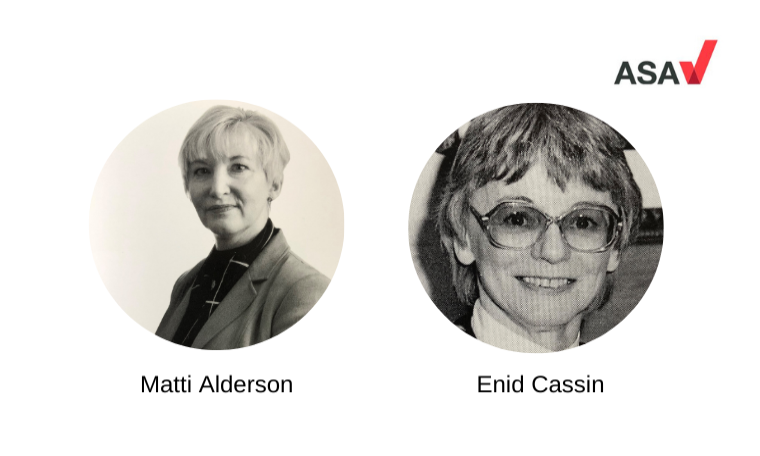 It is with great sadness that we announce the deaths of two former colleagues who played a long and crucial role in our history.
Matti Alderson, former Director General, and Enid Cassin, former Deputy Director General, died last week.
ASA Chief Executive, Guy Parker, has paid tribute:
"The ASA I joined was led by Matti and was very much moulded in her image. It had clarity of purpose, illustrated by its red tick and famous strapline. It was objective, courageous, decisive and fiercely independent, of both industry and government. It was feisty and fun. And it fostered strong friendships, something that very much came right from the top.
"The ASA of today owes a huge gratitude to Matti, and to her predecessor Enid Cassin, who also very sadly died last week. We must say goodbye to two titans of advertising self-regulation, but we have not lost their legacy: an unrelenting focus on making sure that all UK ads are 'legal, decent, honest and truthful'."
Matti made a significant contribution to transforming the ASA into a highly effective and well-known regulatory body. She constantly took our message out to the public and the industry, here and overseas.
She joined the ASA in 1974 as a case officer, and became director general 16 years later, spending 10 years in the role. A champion of publicising our work, she was a driving force in using media relations to raise awareness of our role and remit. And Matti was also quick to see the potential of online advertising and encouraged the development of the ASA's role in regulating in this space.
When Matti left the ASA in 2000, our then Chairman, Lord Rogers of Quarry Bank, praised her contribution to the ASA and the wider self-regulatory system:
"1999 was marked by Matti Alderson's decision not to seek a further term as Director General… This is not the time and place for a full appreciation of Matti Alderson's contribution to the ASA - that will come in next year's Annual Report - but no one has had a clearer view of both the advertising industry's direct responsibility for the success of self-regulation and the independence of the Authority. She has played a major part in ensuring that the Codes took a form that the Council of the ASA could endorse and administer: and she has been like a tiger in defending the ASA from any encroachment upon its jurisdiction."
During her tenure, Matti also helped co-found the European Advertising Standards Alliance (EASA), the organisation that co-ordinates the work of advertising self-regulatory bodies across Europe, in 1992. In 1997, she became vice-chairman of EASA and in June of that year she joined other industry figures to give an influential presentation at the European Parliament on the portrayal of women in advertising.
Inaugural EASA Director General, Dr Oliver Gray, has also paid tribute:
"We had a lot to thank Matti for in the early days of setting up EASA and getting industry support for the idea. She was one of a small but unique group of individuals who gave their time and energy to make the European advertising self-regulation project happen, pressing important industry leaders to support it. Her contributions to EASA continued throughout her time at the ASA, and beyond. And Matti was also an icon for gender equality in what was then still very much a man's world."
Separately, Enid Cassin, who worked at the ASA at the same time as Matti, has also sadly died. She joined the organisation in 1972 and became assistant secretary of CAP in 1976. She worked her way up the ranks to become Deputy Director of the ASA and then Deputy Director General in 1982.
In our 1990 annual report, we recognised Enid's abilities as a "superb administrator" but also someone who "cared for and comforted her colleagues and staff."
We also recognised that "She deserved without reservation the affection and high regard in which she is held in the ASA, in the advertising industry, and among all the bodies with which the ASA deals."
Matti and Enid leave behind many friends at the ASA and within the ad industry, and our thoughts are very much with their families.
---