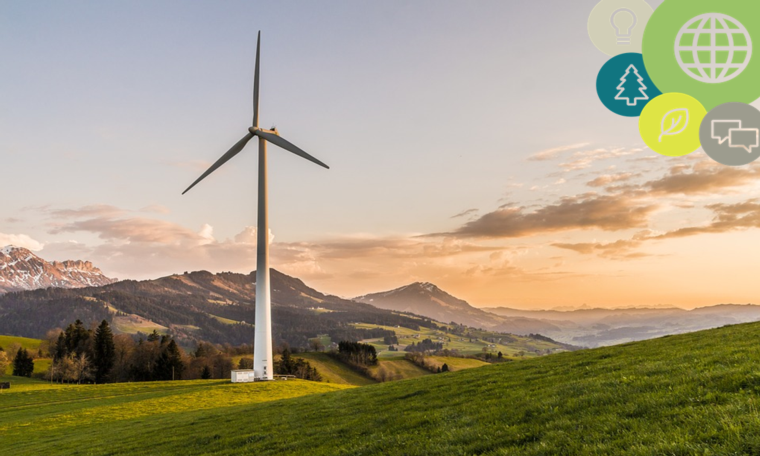 The UN's World Environment Day on 5 June invites governments and institutions to affirm their concern for the preservation of the environment and to contribute to public awareness and the shared mission of tackling the climate crisis.
To mark this day we are providing an update on the work we've undertaken in our Climate Change and the Environment project since our statement in September 2021. The ASA is also pleased to announce further details of the work we'll be carrying out in the months ahead.
Though the ASA has regulated environmental claims for many years, our last statement described the launch of a dedicated project to shine a brighter regulatory spotlight on ads that touch on the environment. In addition to continuing to investigate ads, we committed to delivering three major outputs:
The Committee of Advertising Practice (CAP), the ASA's sister body, published dedicated Advertising Guidance to help the industry ensure that their ads don't mislead consumers or contain socially irresponsible messages about environmental issues;
To commence a series of detailed reviews into the issues identified as priority areas by the Climate Change Committee for carbon reduction and consumer behaviour change. These would involve us using a range of techniques including technology-assisted monitoring to inspect prevalent claims being made in ads for heating/energy and transport in the first reviews, and then move onto waste (looking at claims such as "biodegradable") and meat and dairy and plant-based substitutes at a later date;
Commission research into consumer understanding of 'carbon neutral' and 'net zero' claims, as well as claims about 'hybrid' products in the electric vehicle market.
Outcome of our issues-led review of Heating/Energy and Transport review
Since September, we have carried out our planned reviews of environmental claims in the heating/energy and transport sectors, which have identified a number of issues in ads for products and services in these sectors. The main issues we identified for follow-up action are:
Aspirational claims about advertisers' intentions to transition to net zero by particular dates (for example, 2030 or 2050), and the appropriate evidence needed to back up such claims
Claims by high-emitting companies, which focus on narrow environmentally beneficial aspects of their businesses but may not provide a complete picture of their overall environmental impact
Descriptions of energy tariffs as "green" or "renewable", and the evidence base for these claims
The evidence base for "Carbon neutral" and "zero carbon" claims
Claims in the hybrid and electric vehicle sectors to be reviewed following our research outcomes (see below), in particular zero emissions and self-charging claims
Ads in the air travel sector, with particular interest in 'carbon neutral' or similar claims
Targeted advice to identified brands to help them comply with the Advertising Codes on environmental claims
We will now carry out a combination of proactive investigations, compliance activity, education and partnership working as appropriate to tackle any misleading or socially irresponsible claims under those categories. In due course we will publish updated guidance that focuses on these sectors and what businesses need to do in order to stay within the rules.
Research findings
We have carried out qualitative research into consumer understanding of carbon neutral and net zero claims and claims for electric and hybrid vehicles. This research is almost finished and the outcomes will be published in summer 2022. The findings will help inform our work to address the issues we've found in our review of ads for the heating/energy and transport sectors but also our wider work investigating ads, including through updated guidance to businesses.
Rulings
A vital part of our work on environmental claims is the formal investigations process, through which we assess whether ads have breached the Advertising Codes. Complaints from the public, competitor companies and campaign groups can bring important matters to our attention. Since September 2021, we have conducted a number of important formal investigations that originated from complaints about ads which sought to highlight environmentally beneficial aspects of products or services. These rulings are summarised here, in a new section of our website that is dedicated to our work on environmental issues.
In each of these cases, the ASA established that the ads were either misleadingly vague about the basis of their environmental claims, couldn't support those claims with adequate evidence, or made overarching 'absolute' claims that overstated the products' credentials.
The lessons from these rulings have now been incorporated into CAP's updated Advertising Guidance, which you can find here.
Complaints from the public about ads that touch on the issue of the environment have been on the rise in recent months and we expect to see this trend continue. We have a number of investigations underway that touch on significant issues, so keep an eye out for rulings in the coming months.
eLearning
We are currently developing an eLearning module that covers the CAP Code rules on environmental claims and social responsibility, which will be accessible alongside the rest of the eLearning modules on our website here. Industry professionals will complete this training with an understanding of the rules and how they apply in practice. We expect the module to be available from October 2022.
Partnership working
We continue to have a close working relationship with the Competition and Markets Authority (CMA), which is now administering its Green Claims Code. Given that the CMA decided to focus its attention on fast fashion earlier this year, we agreed that the ASA would not investigate ad claims for fast fashion at this time but instead provide the CMA with intelligence as appropriate. We continue to work closely with the CMA in order that we both stay aligned in terms of how we regulate misleading environmental claims and ensure consistency for businesses.
We are also in close contact with other stakeholders such as the Financial Conduct Authority, Ofgem, BEIS and numerous trade and advertising representative bodies who have programmes of work focused on the environment.
Coming up next...
The above body of work is already an ambitious programme, but we are going further. This summer, we plan to commission research into consumer understanding of "sustainable" and "eco-friendly" claims. These are commonly found in ads and we have concerns that the claims may be ambiguous in some contexts. That research will also begin to lay the groundwork for our third issues-led review into waste claims such as "recyclable" and "biodegradable", and our fourth issues-led review into meat and dairy and plant-based substitute claims. We expect that research to be ready towards the end of 2022 by which time we hope to begin our issues-led review of ad claims that relate to waste claims and before focussing on meat, dairy and plant-based substitute claims in 2023.
Final thoughts
The ASA recognises that advertising has an important role to play in encouraging responsible consumer behaviours towards the environment. As businesses play their part by making important changes to how they operate – from their day-to-day operations to the way that their products are produced, transported and packaged - it's particularly important for consumers to be able to trust the statements they make in their advertising, and to be able to differentiate products based on accurate descriptions of their environmental credentials. Meeting the UK's net zero targets is going to require advertising and ad regulation to play its part, and our comprehensive programme of work is designed to ensure that this happens over the coming months and years.
---
More on
---