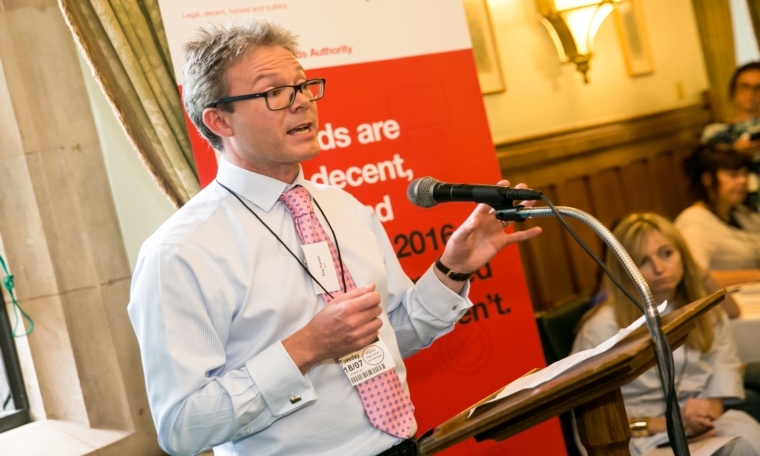 Advertising is at the heart of a fast-changing media landscape and keeping up requires dedicated effort. But there's one thing that doesn't change: we want to protect people, especially children, by working to ensure that every UK ad is a responsible ad. And controlling the advertising to children of foods and soft drinks high in fat, salt and sugar (HFSS ads) is an important part of that work.
Last week, the government published the next stage of its Childhood Obesity Plan, announcing its intention to consult on a 9pm watershed for HFSS ads on TV, among other measures, and potentially consider equivalent online restrictions.
We understand the sense of urgency driving this thinking, because we share the concerns about the rate of childhood obesity.
But to win the fight against obesity, we must recognise that existing tough restrictions have already delivered substantial reductions in HFSS TV ads seen by children, seemingly without moving obesity rates. We need to challenge the assumption that further reductions will somehow work.
Obesity is a huge public health challenge, to which children's diets are central. Relying on parents, teachers, and food manufacturers to reduce the rates isn't enough. Governments and regulators have long recognised the need for policies to tackle the influences that can be so detrimental in shaping children's relationships with food as they move into adulthood. The existing rules are based on evidence that shows that HFSS TV ads have an effect on children's immediate food preferences. That effect might only be modest, but it's there. Since 2007, we've had some of the toughest restrictions in the world, including a complete ban on HFSS ads in children's TV. The rules also ban HFSS ads around TV programmes that attract a disproportionately high child audience. A review of ads between 2005 and 2009 showed those rules drove a 37 per cent reduction in children's HFSS TV ad exposure.
New data suggests that trend is likely to have continued. Children's exposure to all food TV ads is around 40 per cent lower now than it was in 2010. The soft drink category alone has seen a reduction of over half during that period. HFSS TV ads make up only a part of all food TV ads and we're now looking at whether the HFSS TV ad trend is similar. If the decline mirrors that of all food TV ads, we'll be able to say with confidence that the after the initial 37 per cent reduction exposure has continued to fall.
"Ah", I hear you say, "but what about online?". In July 2017, recognising that children now spend more time online than watching TV, we banned the targeting of children with HFSS ads across all non-broadcast media, including on children's websites and social media platforms like YouTube, Google, Facebook, Instagram, and Snapchat.
As we police the rule, we're putting a strict burden of proof on the advertiser. Simply filtering out users who have told social media platforms they're under-16 isn't enough. Instead, advertisers need to show they've used targeting tools to direct ads away from users whose interests suggest they're younger than they claim.
It's early days, but the new restrictions appear to have landed well. We're not seeing evidence of widespread non-compliance. And even where HFSS ads are seen, they're governed by strict content rules: ads aren't allowed to encourage poor diets or unhealthy eating habits, or disparage healthy living. Again, those rules are enforced just as strictly online as they are on TV.
The evidence shows that restrictions are reducing children's exposure to HFSS ads. So if this substantial reduction doesn't appear to have moved the needle much in terms of actual obsesity rates (and it doesn't) we must question whether the tougher restrictions proposed will have the positive effect their advocates desire – restrictions which will, of course, come at a significant cost to the media or platforms affected.
We're open-minded to change because we recognise the public health imperative. We'll carry out a monitoring exercise later this year to find out exactly what ads children are seeing on social media and websites. We want to be absolutely sure that companies are getting it right and we'll publish the results. At the same time we're reviewing the effectiveness of both the non-broadcast and the TV restrictions to make sure they're having the necessary impact.
And we're open to doing more if the latest evidence shows we need to. But as society tackles this multi-faceted problem, it's important that we concentrate on the changes that promise the most meaningful difference. More restrictions might create additional burdens without necessarily delivering benefits.
If a big drop in child exposure to TV ads didn't reduce childhood obesity rates in the last 10 years, we must question the argument that a further drop will do so in the next 10.
This piece was originally published in City A.M on 4 July 2018.
---
More on
---
Guy Parker

Chief Executive

Keep up to date

Sign up to our rulings, newsletters and emargoed access for Press. Subscribe now.
Guy became Chief Executive of the ASA, the UK regulator of ads in all media, in 2009. Responsible for executing the ASA's strategy to make UK ads responsible, he oversees all functions of the ASA system. Read more