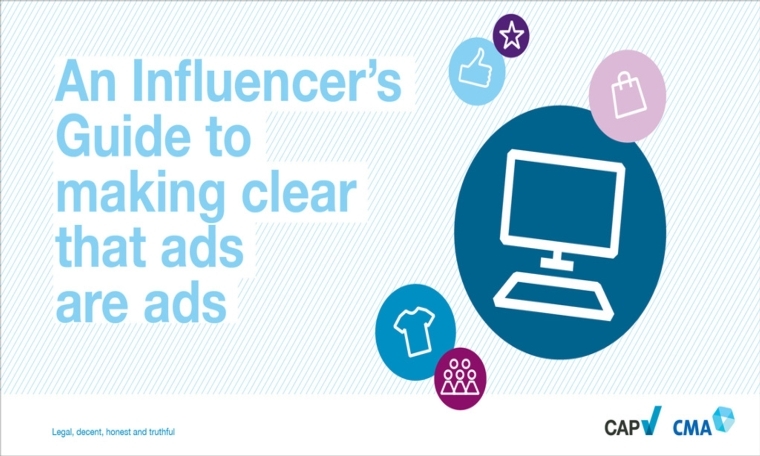 We have launched a new guide to help social influencers stick to the rules by making clear when their posts are ads. The Influencer's Guide has been developed in collaboration with the Competition and Markets Authority (CMA).
The Influencer's Guide is an online resource that aims to help all parties involved in influencer marketing to follow the rules. It includes:
What the rules are
What the ASA considers to be an ad
How to make clear ads are ads
What the CMA's requirements are
What happens if someone makes a complaint about a post to the ASA
The Influencer's Guide also includes a flowchart to help users quickly work out whether a post needs to make clear that it's an ad.
Influencer marketing has evolved alongside the rise of social media and mobile technology into an increasingly popular advertising tool. Brands engage with people who are popular on social networks such as Facebook, Twitter and Instagram to discuss, photograph and/or recommend a product.

When a brand rewards an influencer with a payment, free gift, or other perk, any resulting posts become subject to consumer protection law. When a brand also has control over the content, they become subject to the UK Advertising Code as well.
Consumers must always be aware when they are being advertised to, and both brands and influencers have a responsibility to ensure the content makes that reality clear upfront. Failure to disclose a commercial relationship leaves both parties at risk of action from the ASA.
We've banned a number of influencer posts for failing to make clear they were ads. Over the last few years posts from Louise Thompson, Millie Macintosh, and Marnie Simpson have been subject to ASA action. Earlier this year, we launched a project looking into the labelling of online ads to make sure the ASA's standards are in the right place.
The CMA recently launched an investigation into whether influencers are properly declaring when they have been paid, or otherwise rewarded, to endorse goods or services. The CMA enforces consumer protection legislation which prohibits unfair commercial practices.
Shahriar Coupal, Director of the Committee of Advertising Practice (CAP) said:
"Responsible influencer marketing involves being upfront and clear with the audience, so people are not confused or misled and know when they're being advertised to. The relationship between influencers and their followers relies on trust and authenticity, so transparency is in the interests of all parties. This guide on the standards will help influencers and brands stick to the rules by being upfront with their followers."
George Lusty, the CMA's Senior Director for Consumer Protection said:
"If celebrities or influencers are posting about a product on social media, they must make it clear if they've been paid to promote it, or have been gifted, loaned a product or thanked in some other way by a brand. No one should be left thinking that a Tweet or Instagram post is just the person's opinion when it's not.
"We've already launched an investigation into concerns that social media stars are not properly labelling their posts, and we hope this guidance will help all influencers stay on the right side of consumer law."
Download the Influencer's Guide now.
---
More on
---