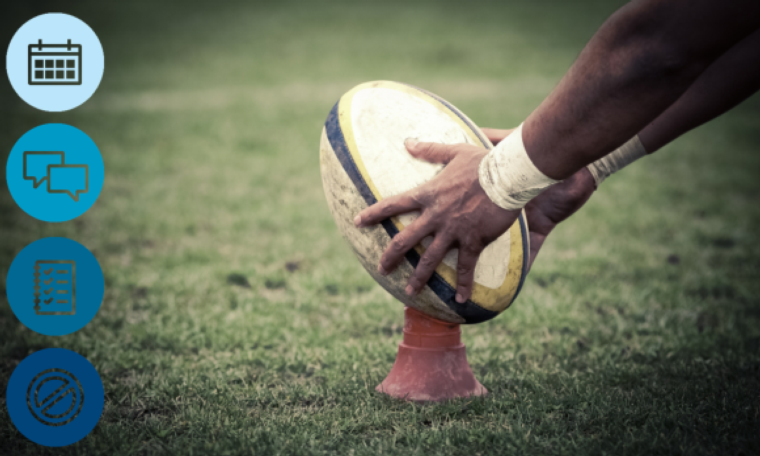 With the Six Nations kicking off next month, marketers are reminded that they should 'try' hard to ensure compliance with the Ad Rules. As with any major sporting event, many advertisers will be looking to tie in their campaigns. While some references might be acceptable, you must not mislead – for example by implying an official partnership, or other relationship, if none exists.
Here's some advice to help you keep on the right side of the (touch-) line.
Official sponsorship
Official sponsors of the Six Nations may refer to it in their advertising, but other marketers should take care not to imply there is an official affiliation. As always, the overall impression of an ad will be taken into account, so any images, icons and symbols will contribute to the ASA's assessment of how consumers are likely to interpret an ad.
General references to the Six Nations or messages of support for a team are likely to be considered acceptable, provided they do not imply official sponsorship. However, there's potentially a very fine line between general messages and misleadingly implying an affiliation. Including a reference to watching the rugby, including a generic image of rugby balls, or using sporting puns are unlikely to be problematic in isolation, but make sure you take a step back to see what impression is being created by the creative overall.
Celebrities and social media
As with all endorsements, those involving celebrities must be accurate and genuine. Marketers are reminded that ads on social media are also subject to the Code and if marketers have paid for a celebrity, sports personality, influencer, or content creator to mention their product or brand on social media the content would (among other things) need to make clear that it's advertising by, for example, stating "#Ad" upfront. See our 'Influencers' guide to making clear that ads are ads' for more on this.
Age-restricted products
Marketers should remember that players, or supporters, who are, or appear to be, under the age of 25 must not play a significant role in alcohol ads, or they'll be handed a red card by the ASA.
If gambling marketers wish to avoid the same fate, they should be aware that the same applies to featuring under 25s in ads for their services, unless the sportsperson depicted is the subject of the bet being offered and the ad appears where a bet can be placed directly through a transactional facility. There is, however, an additional element to consider as gambling ads must not be of strong appeal to children or young persons. For further advice on this, including examples and discussion around sportspeople, see our Advertising Guidance here.
If you would like further, bespoke advice on your non-broadcast ads, our Copy Advice team would be happy to help.
---
More on
---