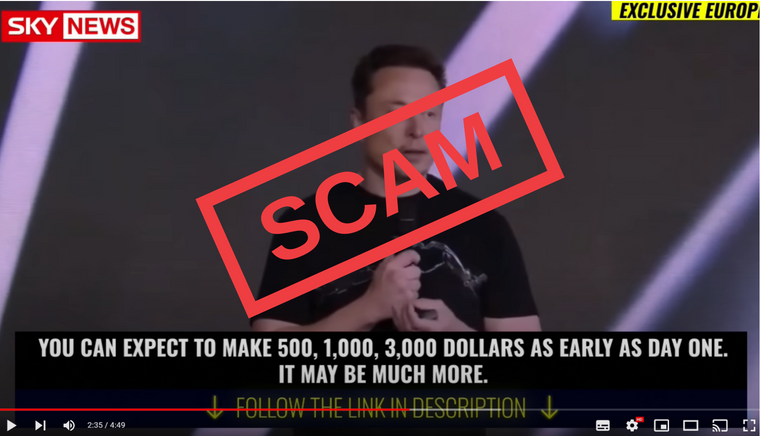 The ASA operates the Scam Ad Alert system in partnership with major online ad and social media platforms to help tackle scam ads online. This is an update on scams trends we've observed from the scam ads that have been brought to our attention and the impact of the Alert system over the last 12 months.
Consumers can report scam ads appearing in paid-for spaces online to us via our online form. We assess reports within 24 hours, enabling us to quickly and effectively alert platforms to in-scope scam ads so that they can promptly remove them, suspend the advertisers' accounts and stop similar ads appearing in future.
Scams trends
Scams featuring celebrities continue to dominate, most often appearing in ads for cryptocurrency, investments and keto slimming gummies. These scams usually involve landing pages featuring fake news stories, including fake celebrity endorsements
We have recently seen a number of paid-for scam ads featuring fake video footage - 'deepfakes' - of celebrities endorsing cryptocurrency and trading apps. These have included ads featuring 'Elon Musk' and 'Martin Lewis'
Following the recent collapse of retailer Wilko, scam websites offering huge discounts on the company's products popped up. We saw paid-for ads linking to these appearing in large numbers on some platforms
Earlier in the year, ads for 'mini-heaters' were a particular concern, as consumers sought to keep heating bills down in the face of the cost-of-living crisis – some were outright scams and others made misleading claims. We will be monitoring for any reemergence of these ads this winter
The Scam Ad Alert system
The online ad platforms, networks and other companies that participate in the Scam Ad Alert system are: Google; Meta (Facebook/Instagram); Taboola; Outbrain; Microsoft; TikTok; Yahoo; Snap; X (formerly know as Twitter); Amazon Ads; Sizmek Ad Suite; RevContent; Index Exchange; Clean.io; Reach; Newsworks; LinkedIn; Mail Metro Media; Confiant; and the Media Trust.
The IAB UK recently made it a requirement that their Gold Standard certified members must be signed up to the ASA's Scam Ad Alert system so more participants will be joining over the next 12 months (there are around 90 certified members, although there will be some for whom it's not relevant).
In the last 12 months the ASA has:
Received 1877 reports of potential scams via our quick reporting form – we assessed whether they related to obvious scams in paid-for space online and included enough information for a Scam Ad Alert
As a result 152 Scam Ad Alerts were sent to platforms to remove ads and further act on intelligence
Of those Alerts:

47% related to ads seen on social media sites
53% related to ads seen in other online media, such as publishers' sites and apps

Platforms responded to our alerts within 48 hours 50% of the time to confirm they had removed the reported scam ad. In total 60% responded to confirm the ad had been removed, although in some cases the ads were removed without us being notified. We have communicated to participants our expectations of a minimum response rate of 80% within 48 hours and will be working with them to improve it

Working with others
We share all Scam Ad Alerts with government's National Cyber Security Centre (NCSC). They operate the government's takedown service, which seeks to remove malicious email addresses and websites. We also share Alerts with Stop Scams UK.
Earlier this year we also partnered with the FCA to help educate influencers about the potential pitfalls of promoting financial products, or 'finfluencing'. We engaged with influencers and their agents, providing them with clear information about what could be an illegal financial promotion with the aim of stopping people from being shown scams or investments that are too risky.
Report a scam ad to the ASA
We encourage reports about any suspected scams seen in paid-for ad space online, including: paid-for search ads; ads on newspaper sites; and paid-for ads seen on social media platforms, games or apps.
Reporting a scam to us or other bodies helps prevents other people from falling victim to scams and may help stop criminal activity.
If you have seen an online ad in paid-for space which you think might be a scam, tell us about it now via our Reporting Form.
---
More on
---