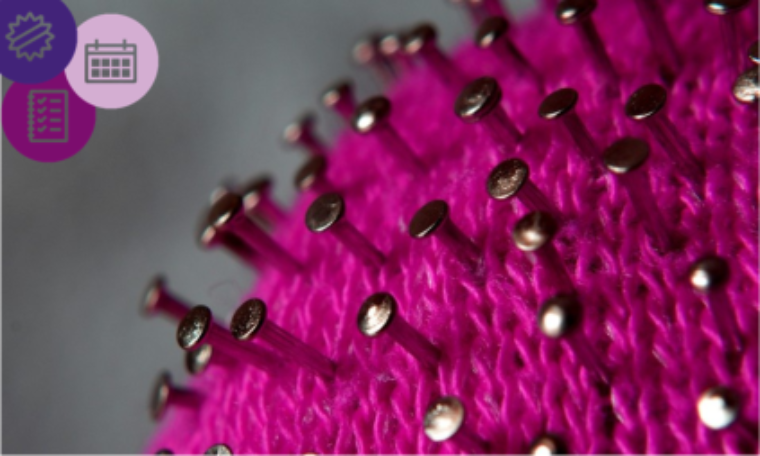 Unlocking our ad complaints
As the phased easing of lockdown restrictions begins and we all look tentatively ahead, we've reviewed the complaint cases we received during the peak of the health crisis to see whether and how consumer concerns changed. We also reflect on how we have had to adapt to new ways of working and the actions we have taken to protect consumers and business in these uncertain times.
By comparing the complaint cases we received in the three month period leading up to lockdown and the three months during the peak of the crisis, we can see a discernible shift in what consumers were contacting us about.
Complaints by sector
Breaking this down by sector first, there are some interesting rises and falls in areas of complaints: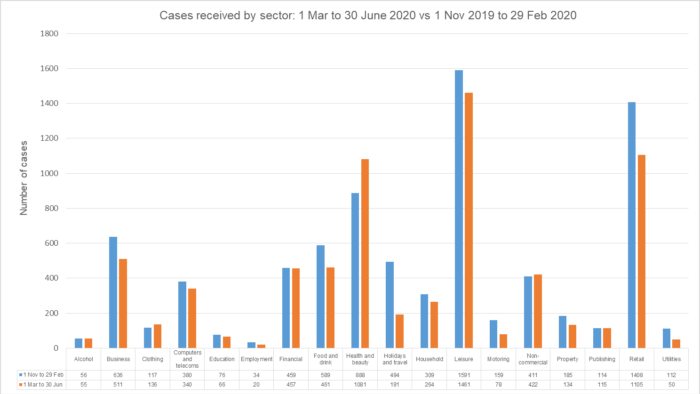 What is immediately apparent is the marked drop in complaint cases about holidays and travel sector ads. While we can't know for certain, that's most likely a clear reflection of the direct impact Covid-19 restrictions had on this industry and the fact many operators significantly reduced their ad spend or stopped advertising completely while the country was in lockdown.
Given the economic downturn, it is also perhaps unsurprising that complaint cases about retail, business, property and leisure ads all saw decreases. Similarly, there was a noticeable drop in complaint cases about the motoring sector, albeit the numbers were smaller, and food and drink. The fact many businesses shut, social distancing measures and lockdown kicked in and many consumers tightened their belts may go some way to explain why we've seen these decreases.
Conversely, complaint cases about health and beauty ads increased, albeit marginally, as did concerns about clothing advertising. Tackling ads for wellbeing treatments making misleading or irresponsible Covid-19 related claims has been a focus of our work during this period.
Complaints by media
If we look at complaint cases broken down by media, we see a clear indication how Covid-19 directly influenced where ads were appearing and, ultimately, where consumer concerns were likely to stem from.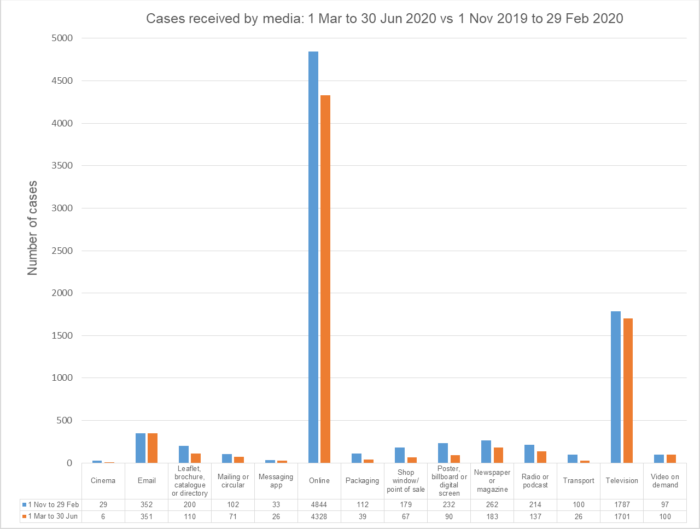 As the figures in this graph show, complaint cases about ads in outdoor media, or indeed any out-of-home media, all but stopped. Again, that's unsurprising. Cinemas closed, as did shops, while transport and poster sites were, by and large, given over to public health campaign advertising by the Government. Reduced foot fall in the streets and the significant decline in people using public transport likely account for low complaint case levels for these media.
As has been the case in recent years, TV and online remained the most complained about media during lockdown. What's interesting to note, however, is the downward trend in online ad complaint cases, while the number of TV ad complaint cases remained relatively level.
We can speculate that although there may have been fewer new TV ads being broadcast, TV ad complaint cases were driven by people, and in particular families, spending more time at home watching together. Parents, grandparents, carers and guardians are more likely to complain when they see or hear an ad that they think is inappropriate or harmful for children. Whereas the decrease in complaint cases about online ads is more difficult to explain. At a time when most of us were at home spending plenty of time online, we expected complaint cases about online ads to go up.
Complaints online
What we can see when we breakdown the online complaint cases data further is the reason why complaints decreased. Consumers complained significantly less – a 30% drop in complaint cases – about companies' website and social media advertising, while complaint cases about social influencer ads and paid-for ads online remained constant.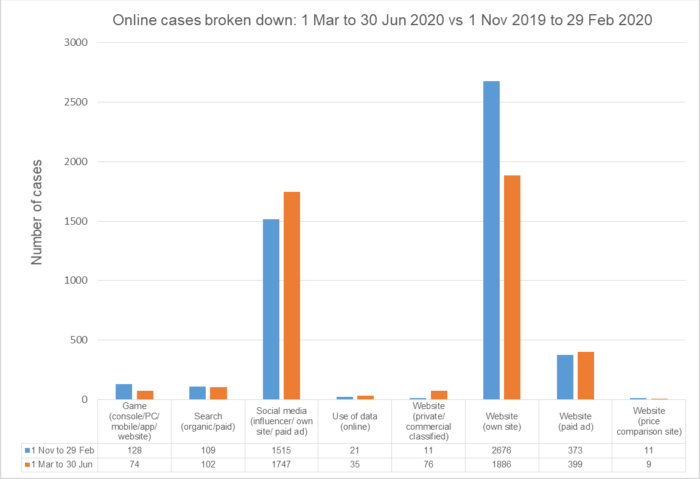 What is clear from all these figures is that, like all parts of society, the advertising industry was impacted by and felt the full effects of the health crisis. The shift in ad spend away from outdoor media to online and TV channels, and the reduction in ad spend by certain sectors is broadly reflected in the volume and nature of complaint cases we've received (the curious fall in cases about company website and social media advertising notwithstanding).
Reprioritising our regulation
So how has the health crisis effected the ASA and what have we had to do differently to ensure we're continuing to regulate ads effectively?
Like many organisations, the Covid-19 emergency presented us with new challenges. From the initial onset of the pandemic in the UK when we acted quickly against online ads for face masks that exploited people's health-related anxieties, we've had to be robust in tackling irresponsible Covid-19 related claims in ads. At the same time, we've also been mindful of the pressures that scores of businesses have found themselves under and, where appropriate, adopted a light-touch approach to our regulation.
As mentioned, sectors such as travel, hospitality, and retail have seen existential threats to their business models. Issues which might ordinarily require a higher level of intervention from us (for example, complaints about holiday pricing) have, in line with our prioritisation principles, been resolved with advice and guidance.
Our focus, then, has been to act decisively where ads undermine the UK's response to the crisis and to exercise discretion where an issue is relatively minor or could not have been foreseen. To help us achieve that, we established an internal task-force to triage and assess incoming complaints. We also created a quick-reporting form on our website, making it easier for consumers to highlight any ads which may be misleading, irresponsible or harmful.
All of this has helped us fast-track a number of investigations into ads which exploited the crisis. We've banned ads for IV drips which claimed to prevent or treat coronavirus; an ad for a bedding company which was likely to cause serious or widespread offence; an ad for Vitamin D and B12 injections which promoted a prescription-only medicine; and an ad for food products which implied they could prevent or treat viruses and flu.
Those rulings have been followed-up and supported by our compliance activity, working alongside the Medicines and Healthcare products Regulatory Agency (MHRA), issuing Enforcement Notices warning health and beauty businesses to stop making direct or indirect claims to treat or prevent Covid-19. We are conducting follow-up monitoring and any advertisers unwilling to comply will be referred to the MHRA.
A firm line on age-restricted ads
And we've been alive to more general concerns about the potential harms the advertising of age-restricted products may cause during a time when many people are isolated, have more time on their hands and are potentially more vulnerable. We remain mindful of the uncertainty and financial hardship felt by many and that in particular, to some, gambling might be seen as an escape from the situation they find themselves in. That's why we issued a warning to gambling operators to pay even more attention to their responsibilities under the Codes. We remain vigilant to concerns about this sector.
In all of this, we have worked closely with our regulatory partners, including the Competition and Markets Authority, National Trading Standards and the Gambling Commission. We have referred issues to those bodies when they're best placed to tackle the issue at hand. Included in that, we have also been working with online platforms to identify and remove problematic ads, particularly on social media.
A proportionate approach
Of equal importance is what we have chosen to do less of, in line with our commitment to proportionate light-touch regulation in a particularly difficult period for businesses. Not all of the complaints we received around Covid-19 result in investigations and ad bans.
During the pandemic, we've received complaints about ads which raise issues indirectly about the virus and in particular around social responsibility (for example, supermarket promotions for prosecco and Easter Eggs which could encourage people to make non-essential shopping trips). Any ads which feature crowd scenes or human contact such as hand holding, hugs or kisses have also prompted concerns because the scenes depicted go against government advice on social distancing.
In assessing complaints of this nature, we've been sympathetic to the fact that the ads were prepared in good faith, many well in advance of lockdown. Those same scenes depicted outside of the current crisis would not, of course, have prompted the same reaction. But as these ads were broadcast at the same time as the government's advice on good hygiene practices, the complaints are, perhaps, inevitable. What we did witness in these cases was many advertisers being proactive in pulling ads that prompted a negative reaction, especially where their ads generated debate on social media.
We're not here to act punitively against ads like this. But clearly, an ad which appears to encourage behaviour that is contrary to current advice on isolation could be problematic and we have judged, and will continue to judge, each ad on its merits taking into account its content and the context in which it appears.
A watching brief
In the next few weeks and months, there will be more to come from our prioritising Covid-19 related ad complaints and fast-tracked investigations. We currently have several cases under investigation, amongst them an important issue that is likely to become an emerging trend: efficacy claims for antibody testing kits.
We've changed the way we regulate during these uncertain times. But while we look ahead to a post-pandemic world, we will continue to monitor and respond quickly to ads that use the Covid-19 crisis in an irresponsible, exploitative or misleading way. Our focus remains on putting resources into tackling ads by a few bad actors who undermine consumer trust, while reducing the regulatory burden on struggling businesses. That will help a competitive and responsible advertising landscape to flourish, which is not only good for the economy, but good for people too.
---
More on
---